By Minghui.org
"We want to tell people about the human rights abuses of Falun Gong practitioners in China. It is a really good opportunity as a lot of media attention focused on the Chinese prime minister's visit," said British Falun Gong practitioner Lee Hall, who participated in a peaceful protest across from 10 Downing Street on June 17, 2014, where British Prime Minister David Cameron received his Chinese counterpart, Li Keqiang.
The practitioners' protest, which condemned the Chinese Communist Party's (CCP) persecution of Falun Gong and the CCP's atrocity of forced organ harvesting from living Falun Gong practitioners, has garnered support from the public. A number of people spoke out to protest the persecution and to call on the British government to consider human rights first when dealing with China.
The practitioners called for bringing former Chinese President Jiang Zemin and other perpetrators of the persecution to justice. They also encouraged more Chinese people to learn about Falun Gong and the CCP's crimes, and renounce the CCP and its affiliated organizations.
Falun Gong practitioners hold a peaceful protest against the persecution in front of the British Prime Minister's office during the Chinese Prime Minister's visit.
Facing the CCP's welcome group was a banner worded, "Knowing the CCP's live organ harvesting, can you keep silence?" The banner was held by British practitioner Lee Hall. Mr. Hall said, "Falun Gong practitioners in China are subjected to forced organ harvesting while they are still alive, for people who need a transplant. The practitioners are just left to die. It's one of the worst human rights abuses anyone has ever heard of in the world. I am sure the government knows about it and Vice Prime Minister Nick Clegg spoke about systematic human rights abuses by the Chinese regime. The government definitely knows about it but they have a tactic of only speaking about it in private, never mentioning anything in public. We would prefer that they say something in public about the persecution of Falun Gong in China."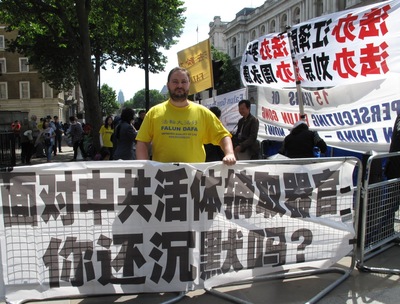 British Falun Gong Practitioner Lee Hall protests at 10 Downing Street on June 17. The banner is worded "Knowing the CCP's live organ harvesting, can you keep silence?"
Speaking about the young Chinese students in the welcome party for Li Keqiang, Mr. Hall said, "I hope they all read the banner and go home and think about it: which side do they want to be on – the good side or the evil side?"
Mr. Hall said, "I took the day off work today to come and take part in this event. I started practicing Falun Gong 13 years ago. I felt a lot of benefits, more energy and my family thought I was a nicer person. I didn't get into any arguments anymore."
Hall recalled, "I went to China in 2002. We think the CCP were watching us. The police took us away and stole some of our belongings, a camera, our train tickets. Then they sent us back to the UK. But I wanted to go there and show the Chinese people that the whole world knows what's happening in China. Practicing Falun Gong in other countries is very popular and it's only the Chinese Communist Party that persecutes it."
Mr. Hall summarized his hopes for a discussion between the British and Chinese heads of state: "I expect them [the British government] to say that 100 million people practicing Falun Gong in China should be allowed to practice freely. They should not be persecuted for their belief. If people believe in Truthfulness-Compassion-Forbearance and doing exercises to make themselves better people, that's a positive thing for any country, but not something to kill people for. I think the UK government should come out and say 'stop persecuting Falun Gong in China' to the Chinese Communist Party."